Press
Review: Christmas in the Key of J
By Michael Debbage, SoloPianoPublications.com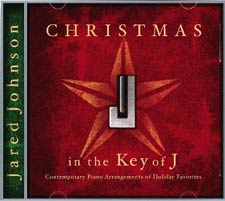 After the sudden death of Jared's brother in law about one year ago the musician struggled through one of life's harsh realities of losing a loved one. To assist him through this rather difficult season of his life, the artist found hope and joy by focusing on the warmth and restoration of Christmas music. In The Key Of J is a result of that renewal period thus making the album a personal holiday project effort.
Jared began playing the piano at a very young age of five. Classically trained, Johnson also studied percussion both in high school and college. As a result his piano style though never heavy handed has a keen sense of rhythmic patterns. This is best heard on the most original twist on the carol "Little Drummer Boy" renamed "Little Drummer Dude." It is here that one can tell that Johnson is gifted in interpretation and originality. Speaking of innovation check out the self composed track "Snow Angels." More in the vein of Jim Brickman, the song is simple but enthralling with a melody that will touch your heart.
Johnson also places his interpretation of David Foster's Christmas classic "Grown Up Christmas List" made popular by Natalie Cole and Amy Grant. In contrast, he doesn't hesitate to explorer the lesser known but energetic "Good Christian Men Rejoice." Otherwise, he tends to focus on the traditional hymns and carols of this festive time of the year. There is enough spin on the arrangements to make them fresh but the basic foundations of the songs are intact. This is evidenced by the opening track "Angels We Have Heard On High." The soft but rhythmic original introduction of almost one minute will leave the track almost unrecognizable showing that Johnson is more than capable of writing his own material and arrangements.
This is only Johnson's second recording in six years and is the follow up to his debut Piano Pop. Based on the sound samples available on his website, In The Key Of J shows a remarkable growth in performances and arrangements of its predecessor. Jared keys in on the fact that less is more slowing down the pace and exhibiting some restraint on the fills and frills. The unique arrangements and the quality of his self composed "Snow Angels" would suggest that there the growth is significant enough to warrant hearing Jared Johnson's own music next time around. For now enjoy his festive interpretations of Christmas.